Jessica Adams' horoscopes appear in a special weekly extended edition in the  Australian Women's Weekly,  every month in Harper's Bazaar, and every day in Cosmopolitan. You will find a compilation of all current horoscopes on this page.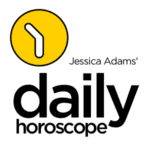 Your Daily horoscope fresh each morning from Jessica Adams.
Your weekly horoscope from Psychic Astrologer Jessica Adams and adapted from her horoscope column in New Zealand's Sunday Star Times. Discover what the stars have in store for you this week.
Your Psychic Astrology free horoscope forecast for the month ahead.
Find out what's in store for the year ahead in your 2014 Horoscope from Psychic Astrologer Jessica Adams: Love, Sex and Relationships, Money, Plans, Friends, Travel… find out what this years' horoscope has in store for your life.
Jessica Adams produces a limited number of personal horoscopes each year. To find out more about this service, please visit the Personal Horoscopes page.
Discover more about your Sun Sign
Are you new to astrology or want to know more about your sign? Check out our pop-guide to sun sign astrology here.
Astrology Podcast: The Astrology Show
The Astrology Show is outer space for your inner ear. It's a free monthly podcast on iTunes and across the web, hosted by Jessica Adams, and featuring special guests. The show frequently appears in the iTunes astrology podcast top ten and can be downloaded, free, from there. 
Guests on The Astrology Show include Julian Venables, who is well-known to users of Solar Fire, and Southern UK BBC radio listeners. The show has also welcomed Gregory Martin, Adam Smith, David Palmer, Victor Olliver, Bethea Jenner, Neil Spencer, April Elliott Kent, Alex Trenoweth and many more astrologers from the US, UK and Australia since it began.