Jessica Adams' free Psychic Astrology forecast for May. See what this month looks like in the stars.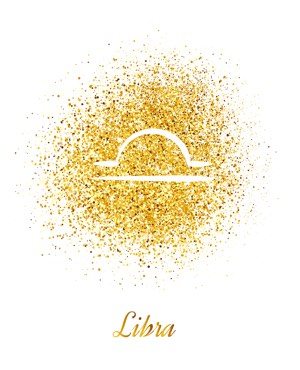 May
Your Radical New Life Budget
Libra, as early as May 1st, you will be 'doing the pivot' as you realise the only way to deal with everything about your budget flipping, is to twist and turn similarly. Fortunately, you are an air sign so know how to breeze through any necessary discussions or paperwork then. This is a radical new life budget, though. Let me explain. On the 1st of May, you experience a Mercury-Uranus conjunction which comes out of the blue, feels as exciting but also challenging as an electrical storm, and releases a great deal of built-up tension. Your house, bank account, charity, business, possessions, apartment, shares and legacy – or others' legacy to you – will be at the heart of what you must now question.
The questioning is a smart move in a time of rapid change. As you saw in March, sometimes life changed in five minutes, then tilted again, the following day. We astrologers have been watching this cycle since 1781 when Uranus was discovered in Bath and know its characteristics. If the subject of pounds, dollars, euros or some other currency leaves you feeling a little wired, then it is absolutely normal. The trick here is to do something which grounds you, Libra – making vegetable soup, growing some sprouts on wet cotton wool – doing the downward dog yoga position – whatever works for you.
I'm going to give you some dates for this financial pivot. We've already seen astonishing things. Banks dropping all charges on overdrafts. Credit card repayment holidays. Huge government handouts. What you're going to see in May 2020 is another big wave of change. You will be set free by this. Maybe you had no idea just how tied up you actually were, Libra. Perhaps you had become accustomed to living a rather tightly restricted life – yet what is coming, near these dates, is freedom. Real liberation. However, it comes your way, the astrological knowledge of about 200 years tells you, take the new independence from (insert word here) and run with it. Even if the atmosphere does crackle and zigzag with the occasional bolt of something unexpected, try to appreciate what is going on – you are being released. It takes great insight to see that, and a few deep breaths, but in the fullness of time, you will see that you would have been confined for years, had a particular situation gone on to its logical conclusion, financially. Or – perhaps – with your business, shares, house, charity or apartment.
The Eighth House of your solar chart is the focus here. This rules marriage and mortgage ('Until death do us part, in sickness and in health'). It also rules what you leave to the family, and what the family leave to you – the really big assets, from heirloom jewelry to property or investments. We call this the house of sex and money in astrology. It can be about your new relationship with a boyfriend to whom you feel compelled to give cash or open up your flat to – rent-free. You get the picture.
Beyond the Mercury-Uranus conjunction in Taurus which begins the month, on May 3rd, 4th, 5th the numbers and the conversation will be parked on the radar of those around you. It is not tucked away, as money matters often are.
The Full Moon in Scorpio on May 7th, felt perhaps a day or two before/after, is the real crossroads for your pivot. Your life budget does have a little bit to do with the financial side of things, but it is really about what money cannot buy. Yet, for you, it is so precious. Principles are pretty high up on the list. What you refuse to sell out for, Libra. Maybe you have been offered a huge business project, but it involves Facebook, and you won't have a bar of it, after the tragic events in Auckland. You see my point? Maybe you have principles, values, morals or ethics which forbid you from accepting money from a former wife, or there is a family member whose line cannot be crossed, in your judgement. This is what the astrology is really about near May 7th. It's your own price tags. So, you might tell a friend 'I wouldn't do that for a million bucks.' Or maybe you would do that!
A life budget can be an astonishing thing, and if you have Scorpio factors in your personal birth chart, you will find that the Full Moon puts you on a dramatically new path. Maybe you rate integrity, credibility or generosity very high in your budget. Perhaps you value forgiveness, compassion or kindness. The bottom line, a lot of the time, is actually your marriage or relationship. Your parents or your children. Priceless. Yet, because of what is happening near May 7th, you must put a price on the things that money cannot purchase. You have to literally re-evaluate what is there.
Close to the 28th of May, at the Uranus-Psyche conjunction in Taurus, you end the month with another pivot. The planet itself pivots. It does not move the way that Jupiter or Saturn, do! As above, so below. When this kind of pattern in your horoscope comes calling, it is smart to twist, turn, bend – and keep moving. There is a really great Madness song called Keep Moving, much under-rated in their career. What we are going through now is a kind of useful madness, in the world economy. Does that make sense? Keep moving. Now, I'll look at your projects, plans, ideas, brainwaves, courses and concepts. That's the next big deal.
Online and Offline – Ideas, Concepts, Brainwaves, Courses
Libra, the New Moon on May 22nd, which you may experience the day before or after, is a new beginning on the internet for you. It may also involve multimedia, a microphone, or just pen and paper. On the same day, there is a duet in your life – which is second nature to you – as you were born to endlessly balance the scales with just one other person. So, the final week of the month is a real turning point for you, after you have gone through all the life budget reshaping earlier on.
Pay attention to the fine print on anything in writing near the 22nd (and it should all be in writing). Beyond this being about your way with words, ideas or images – it is also about other cultures. Other regions or nationalities. Different accents or languages, perhaps. This may be about digital or traditional publishing. Education or academia. Perhaps, your own travel arrangements (some people are still travelling, of course, in May 2020) and any 'travel in the mind' that appeals.
This looks pretty strong. New Moon, new beginning. New deal between you and someone else. This 'someone else' is not just another connection in your life. It's as intricate as mother and son relationships, or the bond between lovers – or even husband and wife. Of course, we may actually be talking about a sexual relationship or a family tie, as discussions roll on.
In other cases it's strictly publisher-author (say) or host-traveler, but it feels really complicated. Your ruler Venus, looming large then, does in fact rule complicated relationships and so getting something in writing, once you have hauled in a disinterested outsider you trust – could be a smart idea.
We then move to May 28th, which is historic in your horoscope. The North Node and South Node move backwards in time, at 19-year intervals. So, you haven't seen anything like this since around 2001. What you were talking about a few days before now feels even more important – perhaps, fated.
The May 28th Karma and You
This goes beyond the projects, plans, ideas, journeys (and travel in the mind). It stretches beyond cultural, national or regional differences, or big ideas – perhaps, vast subjects. It takes you back about 19 years into the past, and depending on your age, 19 years before that. The Mercury conjunction to the North Node and opposition to the South Node is highly unusual. You have known at least one of these people before, in a former lifetime. Perhaps, more than one of them.
It is very likely that a particular part of your country, or the world, has long karmic ties for you. So, for example, if India calls you at the end of May, but you live and work in America, it may be that you were born again (last time) you were born in Delhi. This is standard astrology. The North Node and South Node in India are actually known for triggering major questions about a prior incarnation.
In the West, in astrology, we also associate the patterns you are meeting, with spiritual debts and soul credits. You may be British but have unfinished business with America and Americans. Or, regionally, it may be about you in Sydney dealing with matters almost forgotten, from 19 years ago, in rural Queensland. You get the picture. The way you paint that picture as May ends is really important because you need to complete something unfinished. It will take you through to January 2022. You have time to create it. A sense of repetition or familiarity is very common, Libra. Again, this is part of the cycle. It is very likely it was known at Stonehenge. Time for some long-term balancing acts.
Are you a Premium Member? Your personal birth chart will be online now, if you are logged in, so you can see if this month's key dates affect you. Don't forget to navigate May using all your membership benefits. The Astrology Oracle cards and guidebook. Your private library of e-guides which cover so many Mind, Body and Spirit subjects. Podcasts to relax with – and longer forecasts. Now, here are your diary dates for May. Take a closer look.
Extended Premium Forecast
© Copyright 2020 Goddess Media Limited. All Rights Reserved.
Join my free newsletter to stay in touch, hear about new astrology and horoscope posts. We will also write to you occasionally to tell you about events and offers linked to this website. We respect your privacy. We will never sell or share your personal information and you can opt out by clicking an unsubscribe link at the bottom of any email.