Sagittarius Monthly Horoscope
Jessica Adams' free Psychic Astrology forecast for May. See what this month looks like in the stars.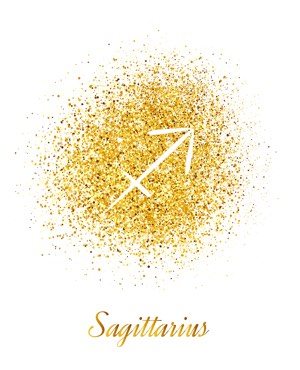 May
Your Lifestyle, Workload, Routine, Health, Well-being
Sagittarius, of all the 12 signs of the zodiac, you are most profoundly affected by Rona, as my hipster friends in Melbourne call C-19. I'm not just talking the need to make sleep, relaxation, fitness (indoors or outdoors) or fruit and vegetables a priority. Your immunity has been a discovery tour waiting to happen since May 2018, when your current Uranus astro-cycle began. No, it's also your work. Your duty to other people and your sense of service. Double that, of course, if you are in a service profession, already. I have a few nurses among my readers, but also hoteliers. No matter what job, part-time or full-time, paid or unpaid, you had back in early 2018, the road from May 1st, 2020 is radically different. It can and will be exciting. Liberating.
You may be pivoting, like a film director who has worked with cameras for decades, suddenly rediscovering the glories of old-time radio. Your own personal birth chart will show you where your career strengths lie. Of course, this cycle is also about unpaid work, housework, care taking, caring, parenting (full-time) and – being a student. It's not just about job descriptions in the normal sense.
Sagittarius, as early as the 1st of May, you will make the connection between how well you feel, how fit you are, how productive you are – and how you view your current obligations. This is really what you do from the start of your day, to the finish. What you are realising, I would guess, since the earlier Uranus patterns in your horoscope in March – is that you will need to rethink and reshape your days, almost on a daily basis sometimes. And you can't remove the details of your 'fitness for duty' from that. For obvious reasons, as Rona is around – but we're also talking about your mental health and mental wellbeing.
We have the common cold on this planet, and we also have common mental health issues. Anxiety and depression are everywhere, and we all live with it, or know someone who does. This is as much a part of this cycle as looking at your immunity overall. Your weight and shape. Your strength and energy. In astrology, which has been focused on what they call the Sixth House, for centuries, we don't separate mind from body.
It's like the most common kind of dentistry – removing plaque. It's also as common as back issues, for some. In other words, Sagittarius, there is nothing about your central question about work, housework, duty, service, health, fitness and well-being that is unique. You are not alone. You also gain enormously in May from being so flexible, so adaptable, so 'bendy' (if that is even a word!) that you can spring into action like an acrobat when you have to.
Uranus is the planet that does not move normally. It moves in mysterious ways. Eccentrically. As above so below. The most eccentric, inventive, wildly original, unprecedented, offbeat, oddball options are all around you in early May.
The Mercury-Uranus conjunction on May 1st is a case in point. Pivot and spin, Sagittarius, pivot and spin. On 4th May, there is a big spotlight on a particular discussion, news item, letter or email. It will directly concern your workload and wellbeing. Light dawns. Questions are answered.
On the Full Moon on May 7th, we go into a different angle on your well-being. I mentioned mental health, which is just as important as an apple a day. We need the apples, but we also need time off, time out, self-care and self-help books, meditation and so on. A little cognitive therapy or mindfulness goes a long way now. That Full Moon asks you to shut the door on the world, find some peace and quiet, and go it alone for a while. You may be doing that anyway. You need to find your spiritual center, then. You're soul's core. It may be via your God, or your church. Your astrology books or your Tarot deck. Maybe, your belief in quantum mechanics (and your tolerance of the zodiac!)
This Full Moon in Scorpio, one sign behind you, is about what you do behind closed doors, including the priest's confessional. It is about what is behind your exterior – so, your astral body or etheric body. Your aura and chakras. Your soul or spirit. That part of you which dreams but also leaves your body. That part of you which is not tied to the here-and-now of living on planet earth, having breakfast and doing the washing-up – but tied to the invisible world. On that Full Moon you will contact this, or it will certainly contact you. The quest for meaning? Maybe. I should have thought your mirror or diary would also be the story.
Once you are past that Full Moon, and into the second week of May, the wheel turns and you are then in a new place, with your lifestyle, soul, spirit, workload, housework, health, fitness and the reset known as 'Uranus in Your Sixth Solar House.' I wouldn't expect you to share, or make public, a great deal of what passes on the Full Moon. May 6th, 7th and 8th is your own affair, no matter if you are a Tibetan Buddhist sympathiser or a confused Jew.
Now, let's talk about the relationship you share with your former, current or potential partner.
Your Former, Current or Potential Partner
There are many kinds of duet and you have seen a few in your life. Tennis partners play doubles at Wimbledon. Actors fall in love with their leading ladies. The two of you may be former, current or potential partners. The bond may be sexual and deeply intimate, with children, marriage and the rest. It may be professional, so you have worked together as a duet, or are doing so now – or may be considering it for 2021. The Seventh House of your chart is where we find the New Moon on May 22nd and the new beginning.
You may move in together to save money, or separate because you realise you want different things from life. The children may have been (or may still be) an issue. Your personal life is in your personal birth chart which will tell you everything you need to know.
On the 22nd of May, quite a few Sagittarius will declare their feelings and talk, text or email some kind of commitment. (Forget the mail. I am in Tasmania waiting for thermal underwear which may never arrive, from a city one hour away. My friend Karen on the Lower East Side has been waiting for P2 masks from me, on the other side of the world, forever). However, you say it, or write it, this is a really big moment for both of you, Sagittarius. Venus is involved in your horoscope on May 22nd, as well as the New Moon, so we are talking human nature at its most vulnerable, intriguing and challenging. Envy is often a part of the story with Venus. Sometimes outright jealousy.
We get vanity, too, and we also get an intense interest in the business of relationships themselves. Venus likes Jane Austen. She likes opera and soap opera. She likes Oprah. So, May 22md or thereabouts is going to be layered and nuanced. You will need a lot of time and space to sort out the discussion then.
About a week later, on May 28th, you reach a karmic cycle not seen since 2001-2002. Perhaps you married then or met. Maybe you moved in together. You could have separated or divorced. Signed up on a business partnership? Left a professional duet? Even if you were a child or baby then, you may have past life karma with your former, current or potential partner on the 28th. I allow 24 hours either side as I have readers in Auckland as well as Los Angeles but think of the closing days of May as the long look back. Even if you can't remember 19 years ago, or 19 years before that, or 19 years before that (the Node karma cycle now) rest assured, it remembers you!
So, you are owed, or you owe – spiritually. Karma is associated with the North Node and South Node in astrology, partly because of Vedic or Indian astrology, which calls these peculiar points in the horoscope, Rahu and Ketu. If you are curious about them look up North Node and South Node when you finish reading this horoscope.
I can best describe what is going on, at the end of May, as a revisiting of the past, or a past life (prior incarnation) which will require slow and steady handling, until January 2022. This is long-haul clearance. The slow balancing act of what was agreed in your soul contracts, in your lives between lives. Maybe you just need to go back to 2001 or 2002 and repay a tremendous emotional debt – or a financial one.
As I said, your own personal birth chart will tell you the full story. You tend to see awfully familiar, intensely repetitive scenarios on this cycle, which begins in the most obvious way as May closes. There is no fast or easy way out, or through. That's fine. You just need to spin those wheels. You'll balance the scales between yourselves and the needle will be firmly in the middle eventually.
Are you a Premium Member? Your natal chart will be online now, if you are logged in, so you can see if this month's key dates affect you. Don't forget to navigate May using all your membership benefits. The Astrology Oracle cards and guidebook. Your private library of e-guides which cover so many Mind, Body and Spirit subjects. Podcasts to relax with – and longer forecasts. Now, here are your diary dates for May. Take a closer look.
Extended Premium Forecast
© Copyright 2020 Goddess Media Limited. All Rights Reserved.
Join my free newsletter to stay in touch, hear about new astrology and horoscope posts. We will also write to you occasionally to tell you about events and offers linked to this website. We respect your privacy. We will never sell or share your personal information and you can opt out by clicking an unsubscribe link at the bottom of any email.